A Town of Beauty
One of the first things people notice about Stratford is the beauty. You speed along high-speed expressways until you motor onto a two-lane roadway surrounded by rich pastoral fields, dotted with picturesque farms. Once you arrive, a magic surrounds you as you wander 19th century streets framing a river set with swans and renowned gardens - Stratford is meant to be strolled and to be savoured, how civilized!
There is a beauty at dusk in the mingling of a black-tied theatre crowd anticipating a thrilling performance. Of being part of a bustling restaurant, scented by a master chef's menus created with ingredients picked only hours ago, from a few miles away. Linger over an afternoon picnic while watching the world glide by. Discover that perfect picture, bowl or curio to bring home, come upon by chance after an afternoon Americano at a café. Bumping into actors, musicians and designers - most of whom call Stratford home - in the after-theatre buzz of a bar or bistro.
Our city may be smaller than most but we have always had a worldly character evident by the refined and well-tended private and public architecture which has long centred our town. We are famous for our Bed and Breakfast inns, each loaded with atmosphere and welcoming hosts - from elegant Victorian Mansions to cozy cottages - we have had guests return every year for over 40 years.
In this age of the speedy and the steely, our character holds pride of place for the artistic, intellectual, gastronomic and bucolic. We invite you to come and refresh yourself for a few days of grace - of stimulating beauty.
To make the most of your visit we offer some help in orientating yourself prior to your arrival - a little bit of history, things you need to know about Stratford and Ontario, where to find us from wherever you are coming from, a map of our town and some useful tips to manage your visit. Once you arrive, there is always a friendly host offering help to make your stay effortless.
---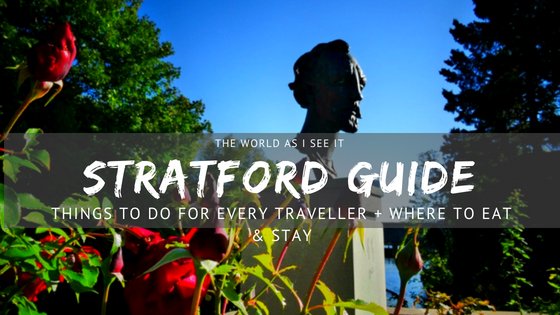 Discover one of Ontario's best travel destinations - Stratford! In this Guide to Stratford you'll find the top things to do for every traveler, what to eat, and where to stay! Get planning…
4 days ago